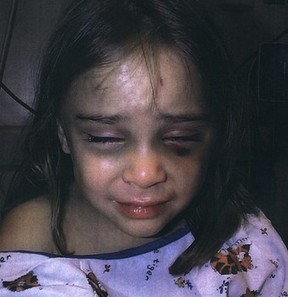 The battered child syndrome is a form of child abuse. It is a clinical condition in young children who have experienced severe physical abuse, which often leads to permanent injuries or death. The perpetrator could be anyone – it could be a parent, guardian, relative, neighbor or even a total stranger.
The battered child syndrome should be considered on any child that evidently shows signs of bone fracture, subdural hematoma, failure to thrive, swellings of soft tissues and/or bruising. It should be considered to any child who has developed a degree of trauma due to variance and occurrence of abuse; it should be considered to any child who had died because of child abuse.
Psychiatric factors of battered child syndrome play an important in the pathogenesis of the disorder. Physicians who evaluate abused children are required to conduct a full assessment of the situation and guarantee that the repetition of such traumatic experience will never be allowed.
Battered Children Cases
Keanu Williams. Keanu was a 2-year old child who died in the hands of his 'monster' mother who is now paying for her crime in jail today. The toddler suffered from 37 different injuries that included bite marks, a fractured skull and a fist-sized tear in the stomach… he was definitely beaten to death. A post-mortem examination showed that he was repeated hit by a stick or rod which caused him to die from internal bleeding. The judge found Keanu's mother, Rebecca Shuttleworth, guilty of four counts of child cruelty. 'He was a defenseless child and it was your duty to protect him. Instead you beat him so severely he died a lingering death from his injuries a day or so later. You have also been convicted of cruelty by failing to summon the medical aid he so badly needed.' These are just some of the statements that Mr. Justice Spencer told Rebecca Shuttleworth. He even added a tribute to the child by saying, 'He was a delightful little boy described as a real character, a little entertainer who remained cheerful despite everything.' It is truly unimaginable what Keanu Williams had to suffer from the outburst of violence of his own mother.
Lauren Kavanaugh. This young girl was tortured beyond imagination by her mother and stepfather. She was given back to her birth mother when she was 20-month old and from then on, she suffered 6 years of torture and starvation. She became known as 'the girl in the closet'; locked away for so long in the back room of a mobile home. When she was rescued in the year 2001, she only weighed 25.6 pounds at 8 years old. The doctors at Children's Medical Center Dallas said that she was damaged in ways that they have never seen. She had suffered from extreme depression and developed bipolar disorder… She had undergone all the necessary treatments – years of psychotherapy and hundreds of doctors' visits. Lauren had indeed suffered a case of extreme child abuse and it is expected that she will have lifelong of emotional problems, long nights of tears and terror, fits of rage… She has suffered a great deal, losing her six key years of growth and development… She does not know her ABC's, she wasn't potty-trained, she doesn't know how to hold a pencil and she doesn't even know what it's like to be in the sun. Fortunately, today, Lauren is surviving and thriving… With the help of her treatments and support from her loving adoptive parents, Sabrina and Bill Kavanaugh, Lauren is now talking more, eager to exercise and she shows more interest in learning new things.
Terrell Peterson. He was a 5-year old boy who lived in Atlanta Georgia who was beaten to death. Terrell only weighed 29 pounds and his body was full of cuts, bruises and burns when the authorities recovered his body. His mother was taking drugs while she was pregnant. Terrell's parents would lock him up in a bedroom during weekends and denied him food. The complaints against his mother led social caseworkers to place Terrell and his siblings, who were also abused in the same way Terrell was, with their blood relatives. However, Terrell was not able to go with his siblings, he was left in the custody of Pharina Peterson – the grandmother of his half-siblings. Another child living in the home of Peterson said that Terrell was tied up often and his nourishment was a far cry from being proper. He was also allegedly burned by Peterson for telling the authorities about her abusive acts; one of Terrell's teachers in school noticed he wasn't walking right and inspected his feet only to find that they were burned to the point that it needed skin grafts. The authorities arrested Pharina Peterson and she was indicted on misdemeanor charges.